Richmond Hill
This stunning, spacious multi-level fitness club, is the first location in our chain. The Richmond Hill fitness centre has plenty of brand new high-end equipment, executive-style change room lounges, a large open functional training room, two separate cardio areas, multiple free weight sections and plenty of fun group fitness classes, you'll find all the amenities you'd expect of a high-end health club, at a much more affordable cost.  
Hours of Operation
Mon-Fri: 6am - 11pm
Sat-Sun: 8am - 8pm
Holiday Hours : 8am - 4pm
Club Contact
Tim Chapman, General Manager
Servicing
Maple
Vaughan
Markham
Unionville
Milliken
Gormley
Bethesda
King City
Preston Lake
Aurora
Snowball
Vandorf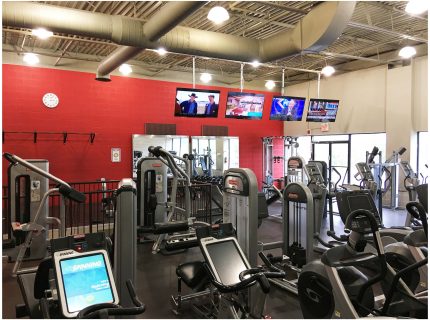 About wynn fitness richmond hill
Experience the "Wynn Difference", an impressive combination of friendly staff, excellent service, innovative programs, new cutting edge equipment, stunning facilities and dedicated fitness professionals that all combine to help you achieve the results you're looking for. We are more than just a gym, from the moment you enter our fitness centers, you are welcomed and made to feel like part of our family. We are committed to understanding and supporting your goals and celebrating your successes. Wynn Fitness Clubs Richmond Hill offers a unique combination of outstanding programs and services, bringing together an unbeatable opportunity for fitness success:
WYNN MAP ORIENTATION PROGRAM – SETTING YOU UP FOR SUCCESS
During your first 30 days, take advantage of our complimentary Wynn Map program. This is our innovative health and fitness orientation program, which gives you the opportunity to work one-on-one with your own personal trainer in three, one-hour sessions. Our Wynn Map program is beneficial as it helps you determine what is most important and allows us to create a customized fitness plan for you.
WYNN PHYSIO – PROFESSIONAL AND EFFECTIVE TREATMENT PROGRAM
Wynn Physio is our innovative physiotherapy program designed for people requiring assistance from trained and experienced physiotherapists. Our leading edge physiotherapy program will provide the guidance and assistance you require to restore, maintain, and increase your function, movement, and strength, while improving your overall health and well-being. Our Wynn Physio program covers treatments for all physical injuries, back pain, weight loss, muscular imbalances, and injury prevention.
INBODY 570 BODY COMPOSITION ANALYZER – COMPLIMENTARY ACCURATE FITNESS ASSESSMENT
This incredible technology allows us to create the most effective training program, tailor-made for your body and individual goals, maximizing and even reducing the time you spend in the gym. In just 45 seconds, it analyzes by area in the body, how much fat, muscle and water your body is composed of. The test is quick, simple and non-invasive, providing results that allow us the opportunity to help you create a motivational program unique to you and your goals. The entire process, and your results, are always kept confidential.
WYNN PERSONAL TRAINING – TAILORED TO YOU FOR FAST, SAFE, EFFECTIVE RESULTS
Our passionate, talented Personal Trainers will help you reach that next fitness level or offer more personalized guidance and support to motivate and ensure you successfully reach your fitness goals and objectives.  Personal training programs are recommended for if you are new to exercise, becoming bored with your workout routine, desire new challenges, require a mentor to provide encouragement, support and motivation, or have a specific fitness goal in mind but aren't sure how to achieve it.
Whether you are looking to lose weight and keep it off, gain healthy weight, build targeted muscle, promote health to prevent disease, or take your fitness goals to the next level, our Personal Trainers are here to help.
TWIST PERFORMANCE + WELLNESS – BUILDING SMART BODIES TO SUPPORT YOUR LIFESTYLE
Twist offers customized, high performance programs for your inner athlete. Programs are designed to help you achieve your sport or training objectives. Twist Mississauga is perfect for adult fitness, personal training, youth athletes, hockey development camps, team training, and high performance athletes. If you are unfamiliar or new to Twist, we offer a free one-on-one workout with one of our experienced Twist coaches so you can experience the Twist difference.
GROUP FITNESS CLASSES – FUN, HIGH-ENERGY, FUNCTIONAL OR RELAXING. YOU CHOOSE!
If you're looking to experience motivational workouts with others that share similar fitness goals, or you enjoy working out in a group setting, our fitness classes are perfect for you. We offer group classes and training for all fitness levels and a full range of amazing options; there's sure to be some that fit perfectly into your busy schedule.  You will find all the high-demand fitness classes you expect like Zumba, Pilates, various Yoga styles and levels, high-energy Boot Camps, Spinning and Step, plus some fun innovative classes like:
Body Sculpt & Express Sculpt
TGIF
WynnDurance
Pound
Tabata
When you walk into one of our group fitness classes, you will discover a whole new way to move your body and love every moment of it!
Amenities
FUNCTIONAL TRAINING AREA
RESISTANCE TRAINING EQUIPMENT
CARDIO SPACES
FREE WEIGHT AREAS
GROUP FITNESS
SPINNING STUDIO
EUCALYPTUS STEAMROOMS
DAY USE LOCKERS
TOWEL SERVICE (OPTIONAL)
5-STAR CHANGEROOMS
LOUNGE AREAS
FREE WIFI
COVERED PARKING
"EV" CHARGING STATIONS
FREE PASS
Check out exciting current offers here! Each year we offer special discounts in support of some of our
favorite charitable organizations, or in celebration of special Canadian holidays and events.
View Promotion
General inquiry
Feel free to schedule a tour of our fitness centre in Richmond Hill, or contact us directly to learn more about our programs and classes, or to take advantage of our free trial membership. To experience all that Wynn Fitness Clubs have to offer, give us a call today at 905-787-0007.